2020 Rolf Schock Prize awarded to Dag Prawitz and Per Martin-Löf
The 2020 Rolf Schock Prize in logic and philosophy is awarded to
Dag Prawitz, Stockholm University, "for proof-theoretical normalization in natural deduction"
Per Martin-Löf, Stockholm University, "for the creation of constructive type theory."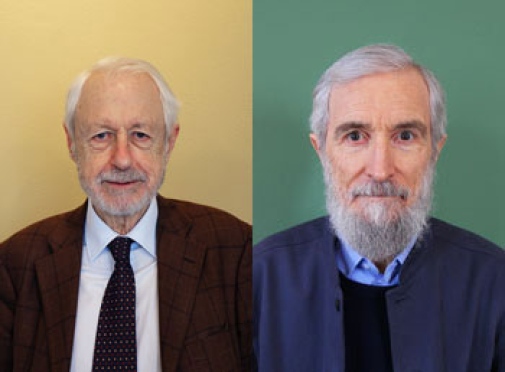 Logic is the study of what makes some arguments or inferences valid and others not. Dag Prawitz and Per Martin-Löf, from Stockholm University, are emeritus professors in theoretical philosophy and logic, respectively, specialising in proof theory and constructivist philosophy of mathematics. They are both members of the Royal Swedish Academy of Sciences and have been nominated by scholars all over the world.
Dag Prawitz' doctoral thesis, from 1965, in which he presented reduction to normal form in natural deduction, quickly became a classic that is still viable today. A proof in normal form has a clear structure, which makes it possible to determine important properties of proofs. Natural deduction is a system of simple rules for how to arrive at a particular conclusion from given premises, and now plays a central role in modern verificationist philosophy of language.
Initially, Per Martin-Löf also worked in proof theory, cooperating closely with Prawitz. In the 1970s, he created a constructive version of type theory, a formal language in which it is possible to express constructive mathematics. Here, a proof of a mathematical statement can be regarded as a program for verifying the statement. Constructive type theory also functions as a powerful programming language and has had an enormous impact in logic, computer science and, recently, mathematics.
About the prize
The Rolf Schock Prizes have an unusually large breadth. The foundation that was created after the death of Rolf Schock decides who will receive the prizes, in partnership with no fewer than three Swedish academies, the Royal Swedish Academy of Sciences, the Royal Academy of Fine Arts and the Royal Swedish Academy of Music.
"The Schock Prizes recognise people who have made outstanding contributions in four areas, in which Rolf Schock was particularly interested. It is a great honour for the participating academies to celebrate these creative individuals at the prize ceremony on 19 October, and other events in association with this," says Göran K. Hansson, secretary general of the Academy of Sciences and chair of the Schock Foundation.
Rolf Schock, who left a great fortune on his death in 1986, stated in his will that the Royal Swedish Academy of Sciences should propose laureates in logics and philosophy, as well as in mathematics, that the Royal Academy of Fine Arts should propose laureates in one of the visual arts and that the Royal Swedish Academy of Music should appoint laureates in one of the musical arts. His bequest is managed by the Schock Foundation, which formally decides the laureates. This year's prize ceremony will be on 19 October 2020 in the auditorium of the Royal Academy of Fine Arts, Fredsgatan 12, in Stockholm.