Workshop Non-Ideal Social Ontology II
EVENT
Date:
29 May 2017, 10.30 AM
-
31 May 2017, 12.00 PM
Venue:
Aula Magna, Polstjärnan, Stockholm University campus
Monday 29th of May

10.30-10.45
Welcome and introduction
10.45-12.00
Johan Brännmark, Malmö University
"Contested institutional facts"

Tuesday 30th of May

9.15-10.30
Beatrice Kobow, University of Leipzig
"The Call of our Logical Conscience - What Heuristic Fictions teach us about Social Ontology"​
10.45-12.00
Katharine Jenkins, University of Nottingham
"The redundancy of status functions"

Wednesday 31st of May

9.15-10.30
Åsa Burman, Stockholm University
"The ontology of human rights"
10.45-12
Round table discussion
All interested are welcome!
Register by email to: asa.burman@philosophy.su.se by the 24th of May. Note that this is a pre-read conference (papers will be distributed to registered participants in advance).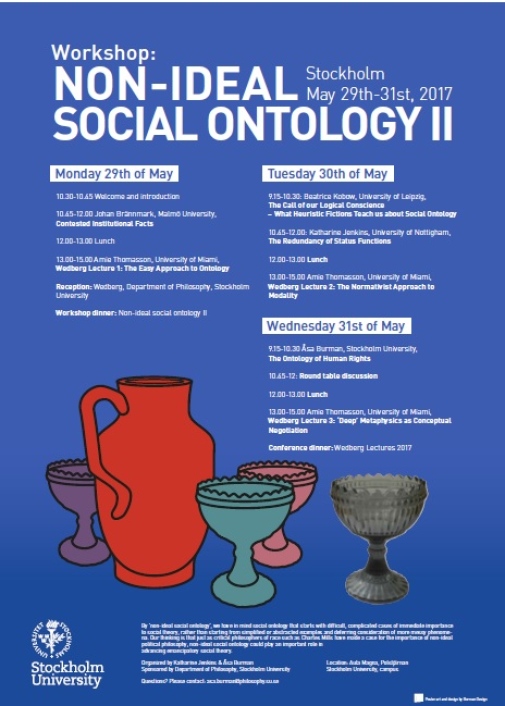 Last updated: May 24, 2017
Page editor: Daniel Ramöller
Source: Department of Philosophy